WHEELCHAIR & MOBILITY
SCOOTER TRAILER
Having a dependable scooter or wheelchair carrier attached to your vehicle is important when you are transporting a disabled person. Magneta Trailers provides exceptional wheelchair or mobility scooter carrier options that are ideal for your needs. Our team works hard to provide you with excellent selections that can carry up to 500 pounds, making sure that you can confidently tow a full scooter on your scooter carrier without worrying about it falling off.

Our trailers are built to be attached to the hitch on your vehicle. They come with aluminum platforms and ramp easy loading. When you are not using the carrier, it flips vertically for your convenience. Take a look at the wheelchair trailer and scooter carrier options we have available here and contact us when you are prepared to place your order. We know you are going to be happy with your wheelchair or mobility scooter trailer.
#UWT1 MOBILITY SCOOTER & WHEELCHAIR TRAILER
#UWT1 SCOOTER TRAILER SHOWN WITH TAILGATE UP & HD 480X12 TIRE & WHEEL OPTION.
Trailer feature a light compact design with galvanized steel tubular frame and aluminum platform & tailgate. Trailer uses our M.P.T. chassis so it can convert with all other M.P.T. models.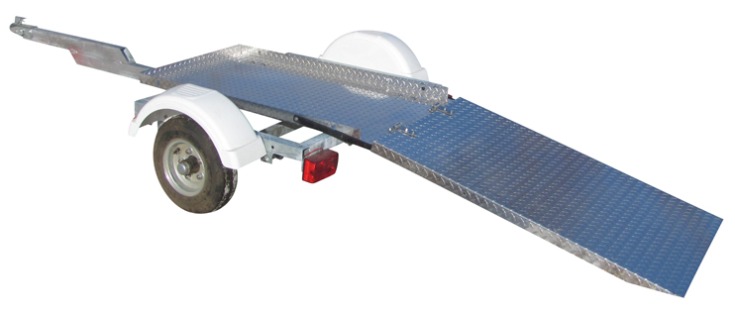 PHOTO ABOVE SHOWS #UWT1 SCOOTER TRAILER SHOWN WITH TRAILGATE DOWN AND STD 480X8 TIRES & WHEELS


PHOTO BELOW SHOWS #UWT1 LOADED WITH MOBILITY SCOOTER
Trailer great for small cars that can not utilized a receiver hitch carrier. Accepts scooters up to 28" wide x 48" inches long. Platform has 2 tie down lugs on each side so scooter can be secure with conventional tie down straps.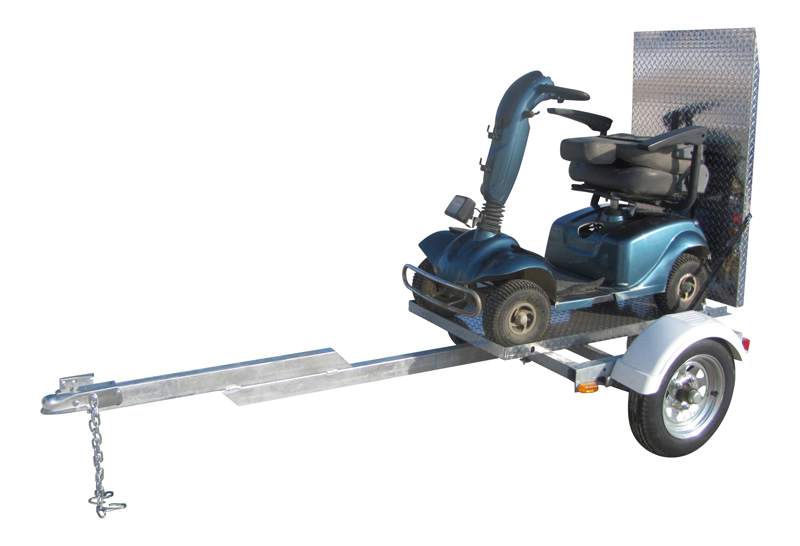 #UWT1 MOBILITY SCOOTER & WHEELCHAIR TRAILER
#UWT1 WHEELCHAIR & MOBILITY SCOOTER TRAILER USING OUR POPULAR M.P.T. TRAILER CHASSIS

* 2"X2" Galvanized square steel framework with 2"x3" tubular tongue
* 28" x48" Aluminum tread plate platform with 28"x48" aluminum tailgate
* Light weight construction easy to maneuver by hand
* Light enough to tow with a compact car or even a full dressed motorcycle
* 2" coupler, dual safety chains, flat 4 prong light connector
* Adjustable tongue length fore & aft
* 2000 pounds high speed axle with cast iron hubs, 5 bolt lug pattern
* 600 pound leaf spring suspension
* Great for 3 & 4 wheel scooters & wheelchairs.
* Not recommended for some 6 wheeled power chairs with center drive wheels
* Scooter or chair must not be occupied when loading
* Std 480x8" tires and wheels or upgrade to the HD 480x12" tires & wheels or upgrade to the XHD 175x13 tires & wheels
* Free shipping inside the 48 states via common carrier un-assembled, requires unloading - Can be shipped via UPS for an extra fee
Feel free to call us at 712-439-3300 with any questions or to order.
#UWT1 MOBILITY SCOOTER / WHEELCHAIR TRAILER
$2650.00 - INCLUDES DELIVERY UN-ASSEMBLED INSIDE THE 48 STATES - Add $190.00 for residential or limited access deliveries
#HD 480X12 TIRE / WHEEL UPGRADE OPTION- 1 PAIR
$179.00 - FOR PURCHASE WITH TRAILER ONLY
#XHD 175X13 TIRE / WHEEL UPGRADE OPTION - 1PAIR
$245.00 - FOR PURCHASE WITH TRAILER ONLY
#TWS1 - TRAIELR WHEEL STAND OPTION $89.00