#UKBT44
#UKBT44 COMBO 4 BIKE & 4 KAYAK TRAILER USING OUR M.P.T. SERIES CHASSIS
TRAILER INCLUDES
* 4 - #FCBR1 GUTTER STYLE BIKE RACKS
* 2 SETS OF #VKS2 VERTICAL KAYAK STAKERS
* #GB3 POLY LIFE JACKET & GEAR STORAGE BOX
* EXTENDED FRAME TRAILER HOLDS 8 FOOTLONG PLYWOD FOOR - { treated plywood not included}
* #SPK STAKE POCKET HARDWARE KIT ALLOWS WOODEN SIDE RAILS - {treated wood sides not included}
* Tongue jack & spare tire optional






#UKBT44 TRAILER SHOWN WITH TREATED WOOD FLOOR & SIDES



TAKE YOUR BOATS & BIKES AT THE SAME TIME. PLUS THE WOOD FLOOR & SIDES GIVE MORE ROOM FOR ALL YOUR OTHER GEAR.
Trailer frame is constructed from popular M.P.T. SERIES CHASSIS made from 2"x2" 14 gauge square tube, The trailer tongue is made from 2"x3" rectangular tube, No wimpy stamped steel frame like the ones from China. All 4 side structural tube construction The frame is hot dipped galvanized for superior rust protection, great for salt water applications, Trailer bed size is 43"x96" Trailer is 80" wide overall x78" tall x 14 feet long, Tongue length is adjustable, or a tongue swing away can be added, 12" tires and wheels, or upgrade to 13" tires / wheels, Poly fenders, Leaf spring suspension with 1 ton high speed axle, Includes U.S. dot approved lights, 2" coupler, flat 4 prong light connector, and dual safety chains. Trailer includes title for licensing purposes. Wood floors and sides not include as they can be purchased from your local home center. Poly life jacket storage box measure 36"x18"x18" - Spare tire and tongue jack and 13" tire upgrade are optional.
REAR VIEW SHOWS 4 SPOTS FOR KAYAK ON THE LOWER LOAD BARS & 4 GUTTER STYLE BIKE RACKS ON THE UPPER LOAD BAR,
The 2 sets of #VKS2 vertical kayak stackers hold your kayaks on their sides / gunnels plus the stackers have foam pads plus foam pads for the load bar. The. The stackers make it easy to lash down your kayaks in the vertical position, The upper bike rack are a frame clamps design that secures your bike in 3 place , 2 straps over the tires and one clamp on the bike frame, Both upper and lower load bars are vertically adjustable up and down the the trailers vertical uprights. Also works for SUP boards, Plus the uprights and load bars can be removed to use as utility trailer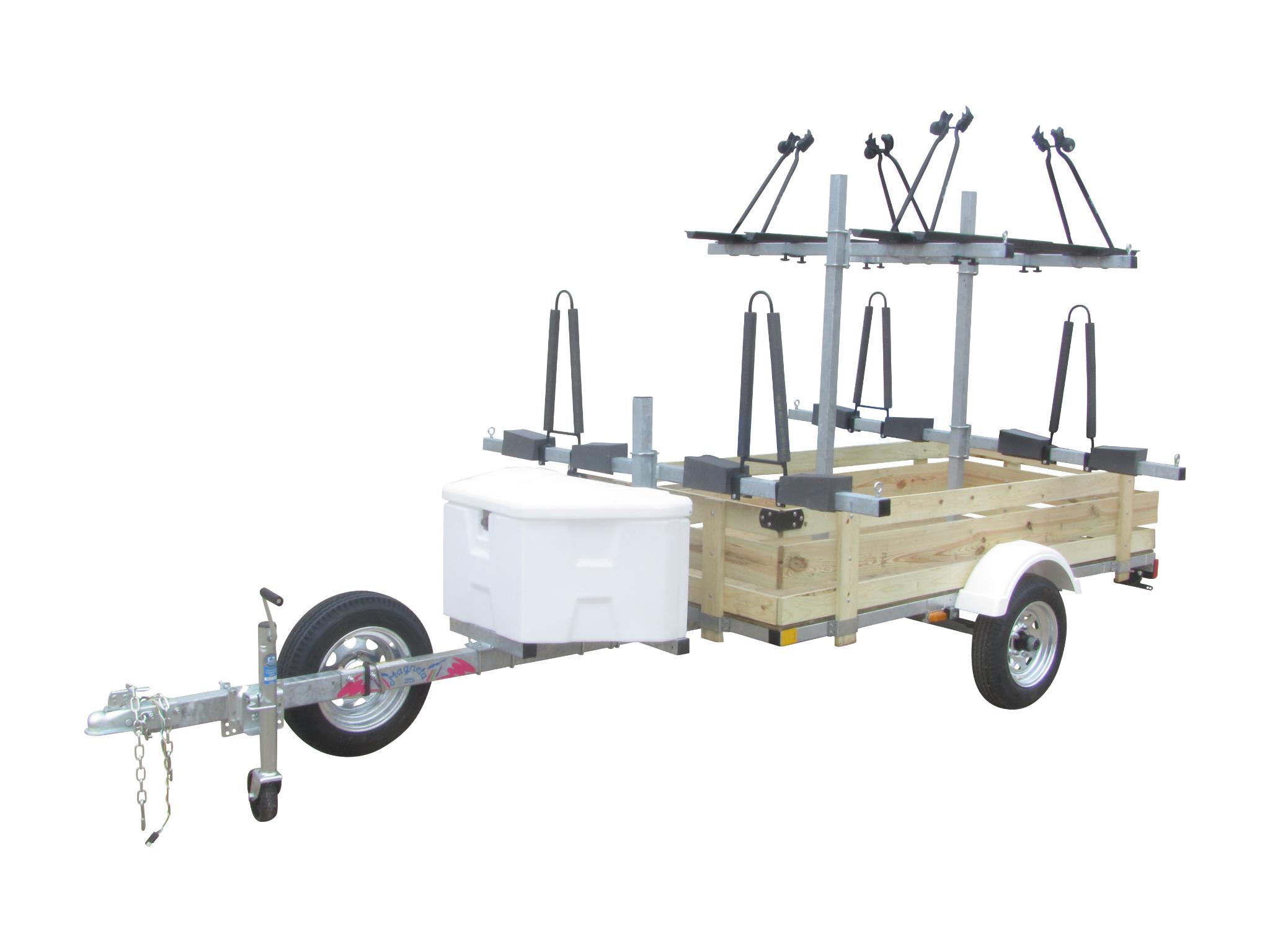 #UKBT44 COMBO 4 BIKE & 4 KAYAK TRAILER
$4850.00 INCLUDES DELIVERY INSIDE THE 48 STATES - UNASSEMBLED - Add $190.00 for residential or limited access deliveries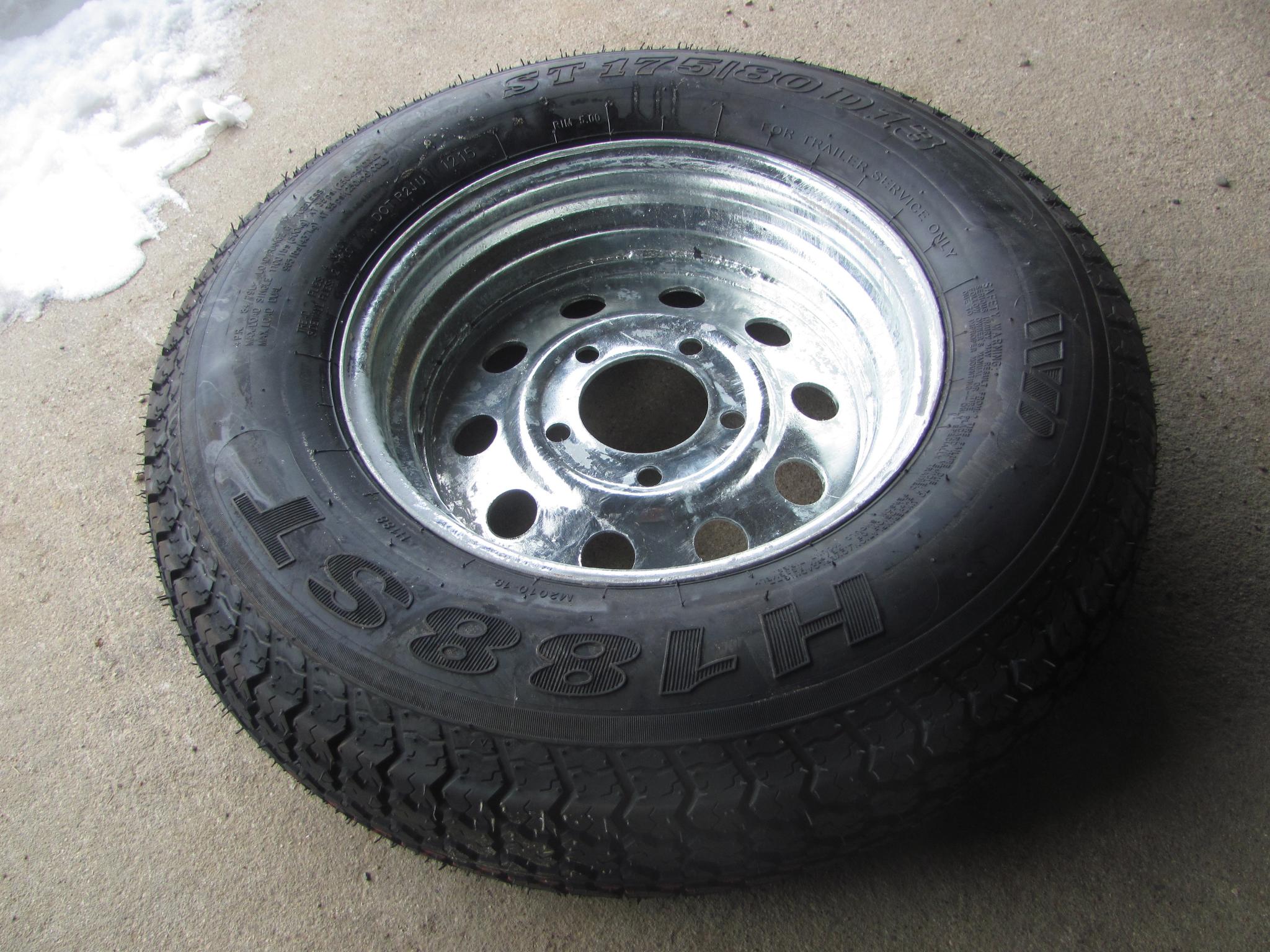 #XHD 13" TIRE / WHEEL UPGRADE OPTION - 1 PAIR
$245.00
#TJS1 TRAILER JACK STAND OPTION
$89.00 INCLUDES SHIPPING WITH TRAILER PURCHASE
#SATX - SWING AWAY TONGUE OPTION ALLOW THE FRONT 2 FEET OF THE TRAILER TONGUE TO SWING OFF TO THE SIDE
$175.00 INCLUDES SHIPPING WITH TRAILER PURCHASE
MINI MAG 5X7 FT CARGO TRAILER
5 ft x 7 ft x 20 inch deep fiberglass cargo body for our M.P.T. CHASSIS. White gelcoat finish can be painted to match your vehicle if desired.
Custom order only allow 2 to 3 month mfg time
$4200.000
Trailer made from our time tested M.P.T. chassis trailer. Adjustable tongue length, 2" ball , dual safety chains, flat 4 prong light connector. Trunk door opens like car trunk with large storage area inside, Cool sleek look, great for sports cars.
Galvanized tubular steel frame work. 1 ton high speed axle, leaf spring suspension, 13" tires / wheels, U.S. dot approved lights, Trailer includes title for licensing purposes.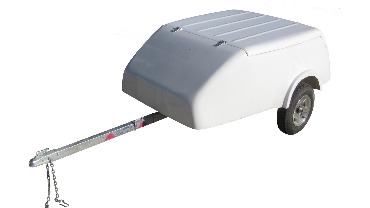 Add towers and load bars to make it a canoe kayak carrier as well, Trailer can be fitted with tongue extenders for long boats.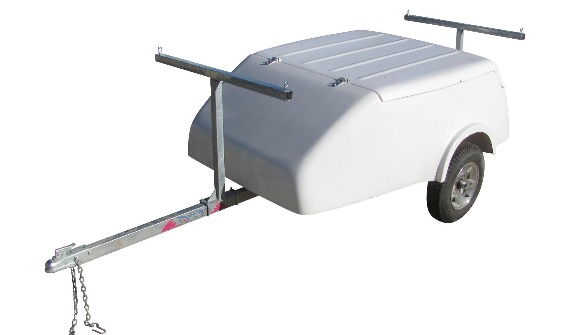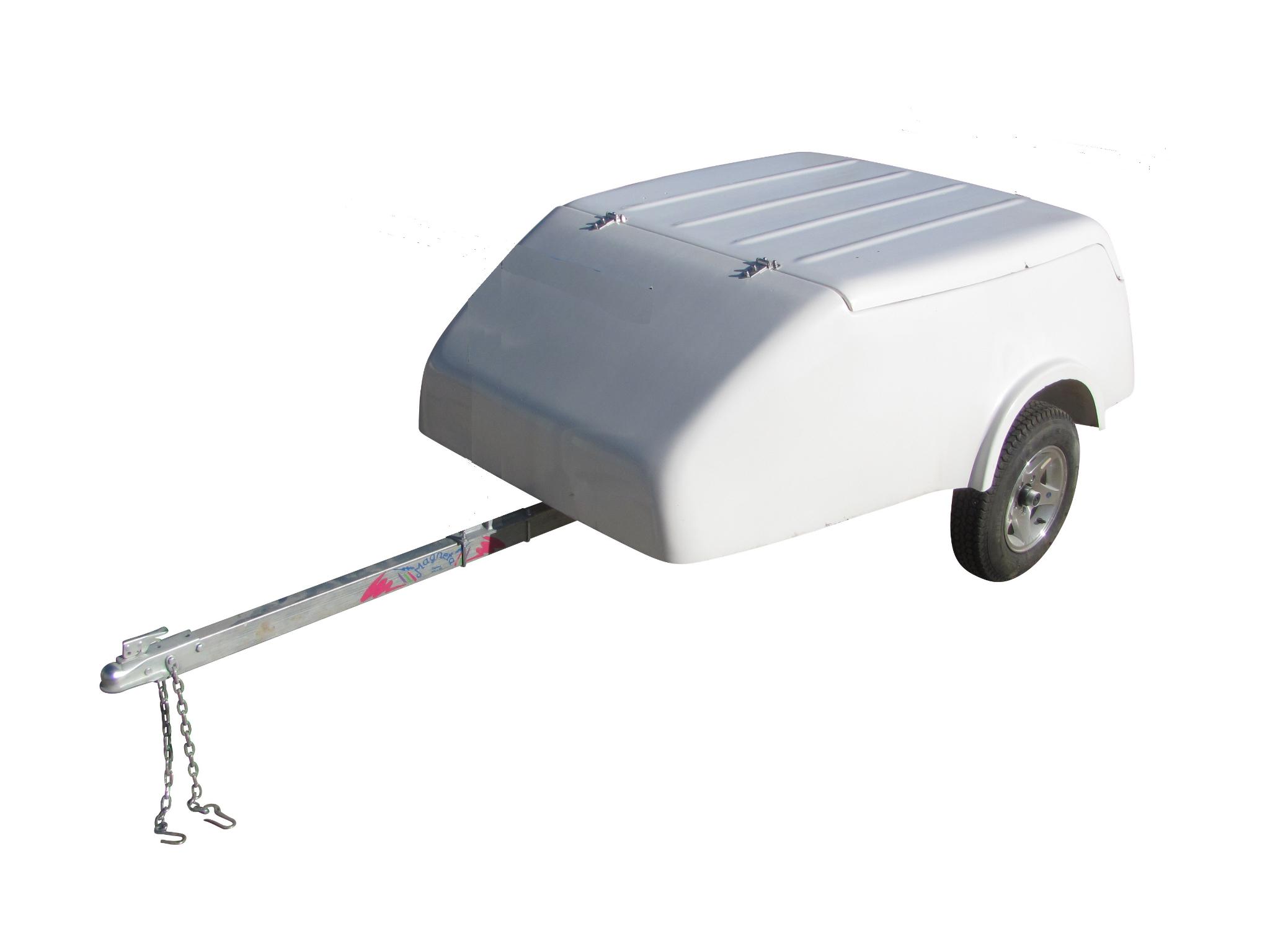 MINI MAG TRAILER
$4850.00 -- CALL FOR CUSTOM DELIVERY OPTIONS
#TJS1 TRAILER JACK STAND OPTION
$89.00 INCLUDES SHIPPING WITH TRAILER PURCHASE
#M007 & M0021 - 1 PAIR - CANOE KAYAK RACK FOR MINI MAG TRAILER
$455.00
#TX2 #TX4 & #TX6 TONGUE EXTENDERS FOR LONG CANOES OR KAYAKS 2 FT #159.00 - 4 FT $179.00- 6 FT $199.00 - yOU CAN ALSO MAKE IT A SWING AWWAY TONGUE FOR AN ADDITIONAL $155.00