CARRY YOUR WHEELCHAIR OR
MOBILITY SCOOTER FROM YOUR
RECEIVER HITCH
Having a dependable scooter or wheelchair carrier attached to your vehicle is important when you are transporting a disabled person. Magneta Trailers provides exceptional wheelchair or mobility scooter carrier options that are ideal for your needs. Our team works hard to provide you with excellent selections that can carry up to 500 pounds, making sure that you can confidently tow a full scooter on your scooter carrier without worrying about it falling off.

Our carriers are built to be attached to the hitch on your vehicle. They come with aluminum platforms that lower to the ground for easy loading that can be mounted to the left or the right for your needs. When you are not using the carrier, it flips vertically for your convenience. Take a look at the wheelchair carrier and scooter carrier options we have available here and contact us when you are prepared to place your order. We know you are going to be happy with your wheelchair or mobility scooter carrier.
#RHWC1 & RHWC2-FL RECEIVER HITCH SCOOTER CADDIE
#RHWC1 MOBILITY SCOOTER & POWER CHAIR CARRIER
#RHWC1 - MOBILITY SCOOTER CARRIER - Features built in jack so the platform lowers to almost ground level for easy loading. Platform usable size is 28" wide by 48" long. Easy turn hand crank lifts and lower carrier platform for loading or road travel, 3 different height settings accommodate different receiver hitch heights.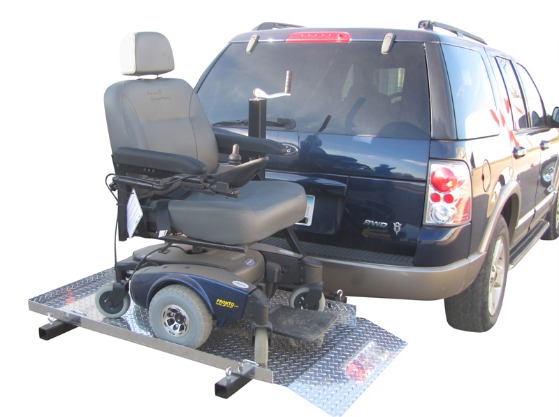 #RHWC1 Mobility scooter carriers shown with power chair. Center drive 6 wheeled power chair may require help getting up the platform ramp if the drive wheels leave the ground, No problem on 3 & 4 wheel scooters.
#RHWC1 - RECEIVER HITCH MOBILITY SCOOTER CARRIER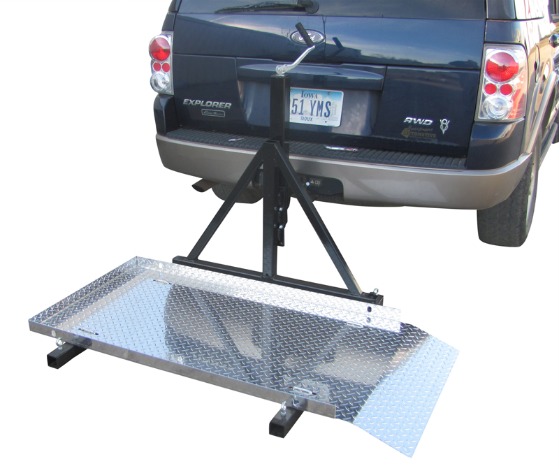 #RHWC1 CARRIER SHOWN AT GROUND LEVEL
Our mobility scooter carrier has 4 tie down lugs for securing your scooter with straps for road travel. It has a tread plate grip aluminum platform with heavy duty powder coated steel frame & jack assembly.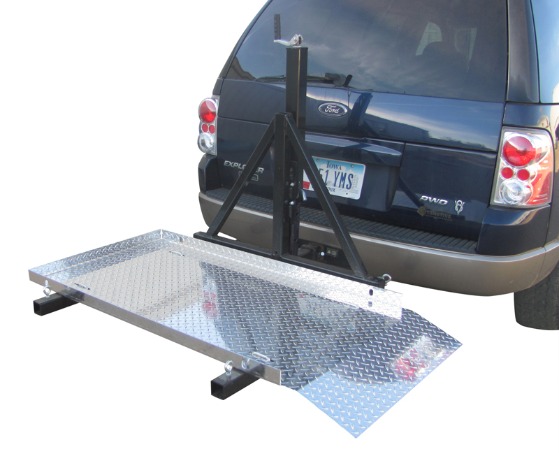 #RHWC1 CARRIER SHOWN AT TRAVEL LEVEL
Jack assembly lifts 18" and can be locked in a high medium or low position for road travel. Hand crank & drive shaft have a radial thrust bearing for easy turning of jack handle. Jack assembly can also be turned with a 1/2" drive cordless drill.
#RHWC2-FL FLIP UP VERSION MOBILITY SCOOTER CARRIER
ALSO A COMPACT FLIP UP VERSION
#RHWC2-FL Flip up version - Same design as the #RHWC1 above except the platform can flip up vertical for storage when not in use, Great for short garage stalls.
#RHWC-1 & RHWC2-FL SCOOTER CARRIER SPECS

* Models RHWC1 & Models RHWC2-FL are same units however on the model RHWC2-FL the aluminum platform can flip up vertically when not in use, The flip up option serves well for people who choose to leave the carrier on the tow vehicle most of the time when not carrying their scooter, this option also allows many people who garage their vehicle to close their garage door while still leaving the carrier on the tow vehicle.
* Both models have a 2" draw bar sizes are rated for 500 pounds, the carrier weight is 135 pounds so you must include the carrier weight when determining your hitch capacity.
* Unit has a built in jack with top crank and lowers to ground for easy loading. Jack lifts 18" inches, Jack has locking pin with 3 lock points high, med or low.
* Jack can also be run up & down with a 1/2 cordless drill.
* Aluminum platform measures 28" wide by 48" long with a 10" long built in ramp that raises 2" may not work well with some 6 wheel center drive power chairs, Platform can be mounted facing left or right, your choice
* Aluminum platform has 4 tie down points 2 on each side for securing your scooter with tie down straps

Feel free to call with any questions you have or to order at 712-439-3300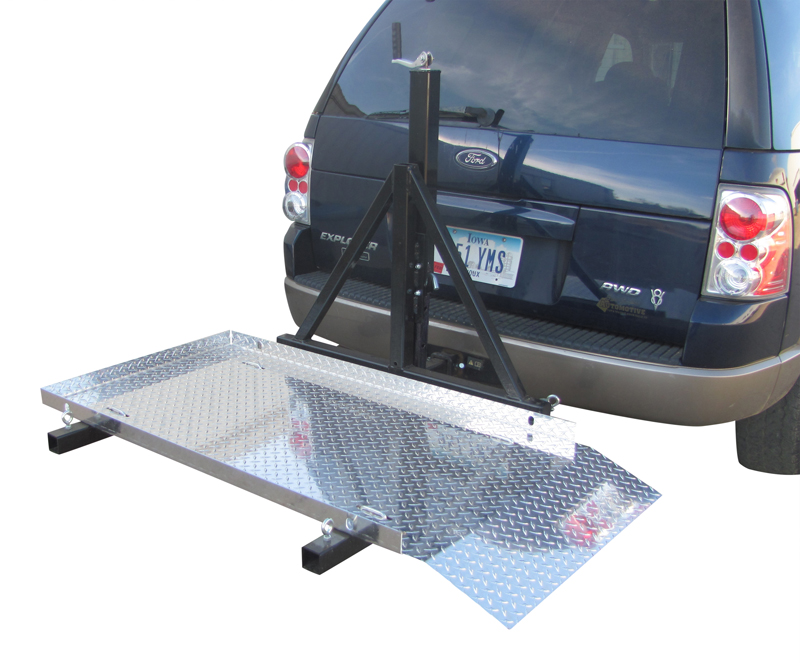 $1375.00 - #RHWC1 - INCLUDES DELIVERY UN-ASSEMBLED 48 STATES - PRODUCT CURRELTY ON HOLD DUE TO SUPPLY CHAIN ISSUES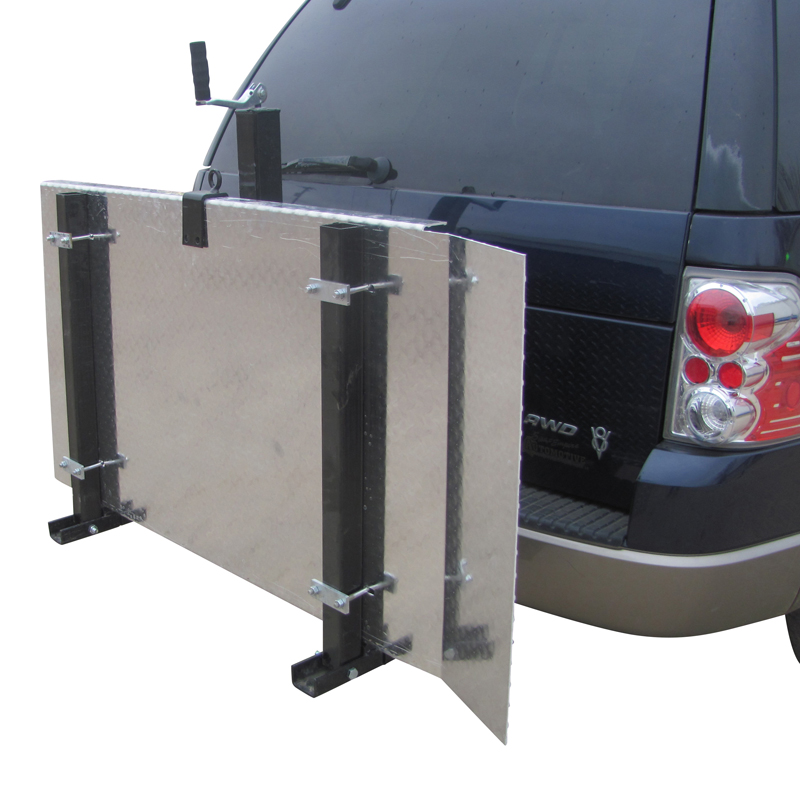 $1675.00 - #RHWC2-FL - INCLUDES DELIVERY UN-ASSEMBLED 48 STATES - PRODUCT CURRENTLY ON HOLD DUE TO SUPPLY CHAIN ISSUES