RECEIVER HITCH PWC CARRIERS
Personal watercraft trailers have come a long way to help you take your PWC on the road to see new places and experience new waves more conveniently. With our PWC conversion kit, you can easily transform snow mobiles, golf carts, or enclosed trailers into PWC trailers. Our line of PWC trailer accessories also includes a receiver hitch, a winch system, pin bow stops, and a flat bed conversion kit.

Magneta Trailers is dedicated to offering a versatile and quality line of products that help you tow personal watercrafts, canoes, kayaks, and other recreational vessels from one point to another. We work hard to make personal watercraft trailers and hitch products accessible and affordable. Many items can be custom ordered to carry any and all types of gear, from bicycles to wave runners in infinite combinations.

As you're checking out PWC trailers, be sure to also look at PWC trailer accessories and other items that will make it easier for you to take everything you want on your next trip. We make fun in the sun easier!


---
#RHPWC1 & #RHPWC2 RECEIVER HITCH PWC CARRIERS
#RHPWC2 SHOWN IN THE LOWERED POSITION
Heavy duty 2 1/2" & 2" square tube construction, powder coated black. This unit has a built in jack assembly so it lowers to water level for easy loading & unloading, 2" draw bar size, Unit tested to 500 pounds
#RHPWC2 SHOWN IN THE UP & TRAVEL POSITION
4 foot bunks are adjustable side to side and can be angled to match the hull dead rise. $ tie down lugs are also includes for securing your PWC, Not for user with any PWC's over 102" inches long.
#RHPWC2 - PWC CARRIER SPECS
* 2 - 4 FOOT LONG ADJUSTABLE CARPETED BUNKS
* HAND CRANK WITH BUILT IN JACK LIFTS 18" AND THEN LOWERS TO GROUND LEVEL FOR EASY LOADING AND UNLOADING
* 2" DRAW BAR HITCH SIZE
* BLACK POWDER COAT FINISH
* 3 HEIGHT SETTINGS, HIGH MEDUIM AND LOW
* 4 TIE DOWN LUGS INCLUDED
* RATED FOR 500 POUNDS MAX ON A CLASS 3 HITCH
#RHPWC1 - PWC CARRIER
This static PWC carrier is similar to the carrier above but has no built in jack. Great for small light weight 2 stoke PWC's - Sturdy 2x2 inch square tube frame powder coated black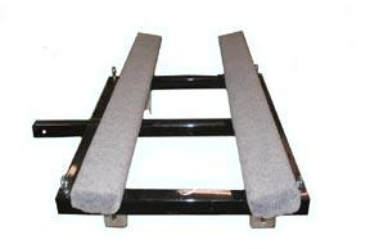 #RHPWC1 - PWC CARRIER SPECS
* 2 - 4 FOOT LONG ADJUSTABLE CARPETED BUNKS
* 2" DRAW BAR HITCH SIZE
* 36"x24" FRAME MADE FROM 2"X2" SQUARE TUBE
* BLACK POWDER COAT FINISH
* 4 TIE DOWN LUGS INCLUDED
* RATED FOR 500 POUNDS MAX ON A CLASS 3 HITCH
Feel free to call us at 712-439-3300 with any questions or to order
$1195.00 - #RHPWC2 - PWC CARRIER WITH JACK - INCLUDES DELIVERY UN-ASSEMBLED 48 STATES - PRODUCT ON HOLD DUE TO SUPPLY CHAIN ISSUES
$645.00 - #RHPWC1 - PWC CARRIER LESS JACK - INCLUDES DELIVERY UN-ASSEMBLED 48 STATES - PRODUCT ON HOLD DUE TO SUPPLY CHAIN ISSUES